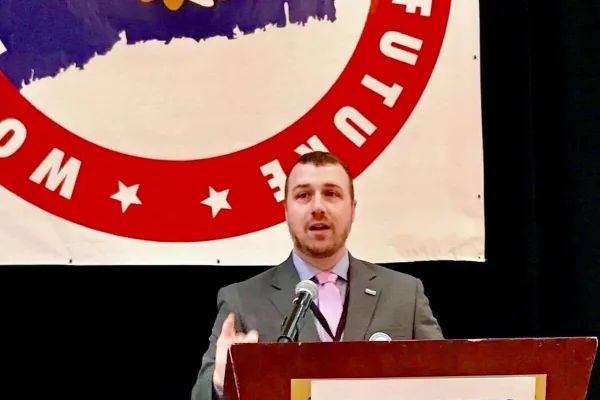 Email
ehawthorne@westernctalf.org
Ed was born and raised in the Waterbury area. He currently resides in Wolcott with his wife Sarah and two daughters Emma and Nora. Ed received a bachelors of the arts degree in English from Marist College, played division one football at Marist College, obtained a Juris Doctor (JD) from SUNY at Buffalo School of Law in 2009, and is licensed to practice law in Connecticut and New York. Ed is currently employed by the Connecticut Department of Labor, serves as Vice President of AFSCME Local 269, and Vice Chair of the Wolcott Democratic Town Committee.
Paid Family & Medical Leave
In 2019, Ed worked tirelessly to pass Paid Family and Medical Leave and to ensure a strong public administration of the program. He provided written and oral testimony before the Labor and Public Employees Committee on two occasions, composed a letter to the editor in the Waterbury Republican American, organized a petition drive at the Department of Labor urging the governor not to privatize the program where we obtained almost 300 signatures in less than 48 hours, coordinated simultaneous phone banks and created call sheets for each member to call their State Representative and State Senator to urge them to support the public administration of the program, provided talking points to legislators to push back against privatization. 
Stop & Shop Strike Support
Ed helped organize actions in support of our brothers and sisters with the UFCW by assisting in the creation of our solidarity bucks, engaging in actions pre strike, one of which made the cover of the Waterbury Republican American, regularly walked the picket line with strikers and organized other non UFCW members to do the same. 
Waterbury Hospital COVID-19 Support
Conducted a meeting with concerned workers at the hospital. Ran a highly successful social media campaign that reached over 25,000 people in three days. Had multiple interviews with area reporter that resulted in two front page stories and forced hospital management to begin to improve working conditions.
My Vision
The Western Connecticut Area Labor Federation (ALF) is the local arm of the AFL-CIO. The focus of the ALF is  supporting our four chapters and encouraging each chapter to assist in achieving our shared goal of advancing the union movement through grassroots organizing.It is my firm belief that a leader must lead by example. I am not paid staff of a union. I am a member. I am a millennial with two young children and nevertheless find the time to knock on the doors, make the phone calls,  organize support for causes, and attend the rallies necessary to grow the union movement. Through  example I strive to encourage other members to become more involved and take ownership of our  movement.