Political Engagement
For municipal elections (odd years), WCALF runs a robust political program in order to engage union members in the political process. We do this through candidate interviews, endorsements, voter registration, education, and Get Out The Vote efforts.  By mobilizing affiliates & members,  union members elect candidates who support and will enact a working families agenda. 
Some of our political action and engagement activities include:
Recruited union members to participate in Labor to Labor walks for state, gubernatorial, and congressional races in coordination with the Connecticut AFL-CIO. In our jurisdiction, Labor to Labor walks will be scheduled for 2019 municipal races. 

Organized 3 phone banks and recruited 21 union members to make Get Out the Vote calls. 

Mailed 2,900 letters and postcards to union members informing them of candidates and their positions on issues that impact workers.

Knocked on over 100 doors for 2 issue walks to discuss with union members what matters are important to them. 

Knocked on 85 doors in Hamden to register union members to vote. Additional voter registration walks will be scheduled for 2019. 
For any inquires and/or to recieve a candidate questionnaire, please contact:
Field & Community Engagement Coordinator, Jacey Long 203.451.0568
jlong@westernctalf.org
2021 Endorsement Questionaire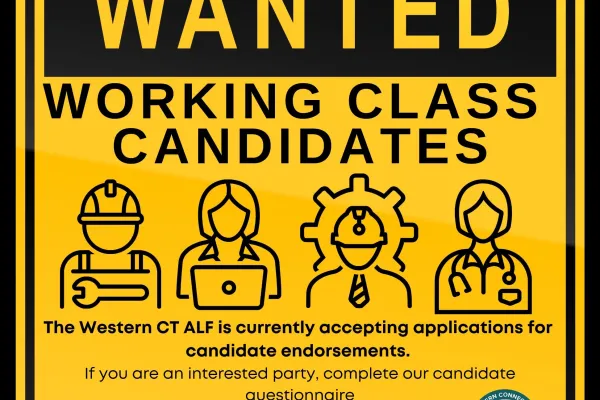 2021 Endorsement Questionaire