2021 Endorsement Questionaire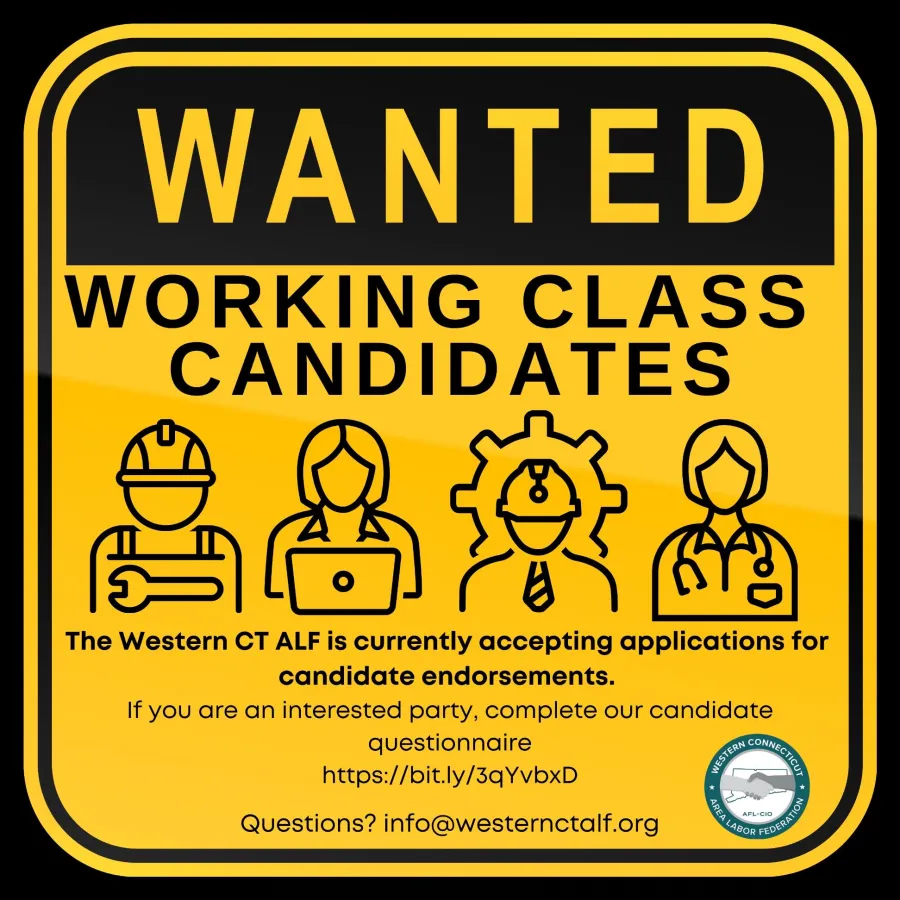 Are you a working class candidate? Do you stand with labor? Apply to get our endorsement by filling out our questionnaire!
The Western Connecticut Area Labor Federation, AFL-CIO is inviting candidates to seek our endorsement. Chartered by the National AFL-CIO, we are a coalition of local unions from various public and private sectors across western Connecticut. We strive to achieve economic justice by mobilizing members and community partners to advance the interests of labor and working families.
Our process is simple:
1.     To be considered for endorsement, you must first fill out our questionnaire online.
       Click here to be taken to the questionnaire.
2.    Depending on your response to the questionnaire, you may be invited to be interviewed.
3.    After a possible interview, the delegates to the Western Connecticut Area Labor Federation will vote on any endorsement.
Please complete the questionnaire as soon as possible, all questionnaires are due by September 1st so that you may be considered for an interview.
Please feel free to email or call our Field & Community Engagement Coordinator, Jacey Long, with any questions. 203-451-0568 or jlong@westernctalf.org.
Questionnaire link:  http://bit.ly/3qYvbxD
If you are interested in receiving the endorsement of great organizations in the Labor Movement, or if you running in Eastern Connecticut, you can find relevant applications bellow.